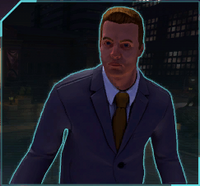 "
Thomas Hutch, a friend of the Council, was riding in the limo at the bottom of those steps when it was hit by an alien ambush. We need you to find Mr. Hutch, make sure he's safe, and get him safely back to the Skyranger.
"
Thomas Hutch is a VIP target for extraction in XCOM: Enemy Unknown.
Council Transmission
Edit
A friend of this Council has come under attack by aliens in [COUNCIL NATION]. It would reflect poorly on our efforts if we were to allow our ally to be captured by hostile forces. We'll need you to ensure his safe return to XCOM HQ; we should have further details by the time your troops reach the extraction site.
Mission Details
Edit
The mission takes place in the Museum map, and Hutch is located behind the delivery truck on the street.
"Hello? Who's out there? I'm back here by the van!"
"Excuse me! I'm back here! By the delivery van!"
"Anyone! Hello? I'm here!"
"You're human. Thank God. Get me the hell out of here!"
"I'm certainly going to put in a good word for you if we make it out of here."
"Hmmm...maybe my security detail should be getting its equipment from your suppliers."
"I'm grateful my friends on the Council were able to put together this rescue operation. I owe you all my sincerest thanks."
"If I make it out of here alive, I'm going to make sure you receive all the support I can provide to your project."
"You risked your lives for me. I owe you a debt of gratitude."
XCOM: Enemy WithinEdit
The Museum map was removed, so this mission takes place in the Street Hurricane map instead.
Ad blocker interference detected!
Wikia is a free-to-use site that makes money from advertising. We have a modified experience for viewers using ad blockers

Wikia is not accessible if you've made further modifications. Remove the custom ad blocker rule(s) and the page will load as expected.