Sword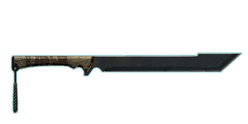 Specifications
Type
Sword
Class
Ranger
Base Damage
3-5
Critical Chance
10%
Effective Range
Melee
A Sword is a secondary weapon in XCOM 2. This machete-like melee weapon is restricted to Rangers.
Availability
Edit
Available by default.
Tactical Info
Edit
Rangers can attack adjacent enemies with their sword even after using both actions to move or dash to the extent of their movement range.
The decision to engage the enemy in melee combat can be a decisive one; exercise caution.
Keep an eye out to improve our edged weapon effectiveness - the enemy may have access to much better technology.
Ad blocker interference detected!
Wikia is a free-to-use site that makes money from advertising. We have a modified experience for viewers using ad blockers

Wikia is not accessible if you've made further modifications. Remove the custom ad blocker rule(s) and the page will load as expected.