For the XCOM: Enemy Unknown ability, see Support Class (XCOM: Enemy Unknown).
Smoke Grenade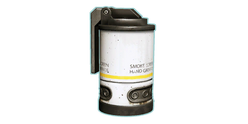 Specifications
Required Resources

§25

(

§40

)
Blast Radius
4
Effective Range
15
Effect
Defensive Bonus
A Smoke Grenade is a utility item in XCOM 2.
In-Game Description
Edit
| | | |
| --- | --- | --- |
| " | Provides a defensive boost to any unit within the radius of the smoke, friend or foe. | " |
Smoke cloud remains in effect for three turns; on player`s fourth turn after using the grenade, all terrain previously covered by the cloud will have its original protection values, and the visual effect of the cloud will have been removed. A notable increase in smoke transparency signalises that the cloud is about to dissipate.
Using a Smoke Grenade ends a soldier's turn.
The Smoke Grenade in the game actually didn't provide any Defensive Bonus due to a bug which is fixed in Anarchy's Children patch.
Ad blocker interference detected!
Wikia is a free-to-use site that makes money from advertising. We have a modified experience for viewers using ad blockers

Wikia is not accessible if you've made further modifications. Remove the custom ad blocker rule(s) and the page will load as expected.