Secondary Heart

Gene Mod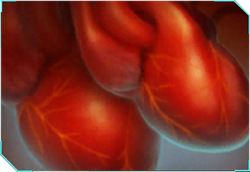 Secondary Heart is one of the Gene Mods in XCOM: Enemy Within.
Description
Edit
A soldier will become critically wounded instead of dying when suffering lethal damage. Extends bleed out by 2 turns and the soldier won't lose Will from critical wounds.
Acquisition
Edit
This Gene Mod becomes available in the Genetics Lab is after completing the Cyberdisc Autopsy research.
Cost: §75,
15
Ad blocker interference detected!
Wikia is a free-to-use site that makes money from advertising. We have a modified experience for viewers using ad blockers

Wikia is not accessible if you've made further modifications. Remove the custom ad blocker rule(s) and the page will load as expected.