Railgun
Talk

0
549pages on
this wiki
Railgun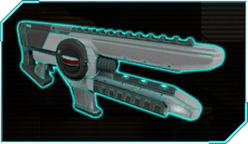 Specifications
| | |
| --- | --- |
| Type | Heavy Cannon |
| Class | MEC Trooper |
| Cost | |
| Ammo | |
| Base Damage | 6-8 |
| Average Damage | 7 |
| Critical Chance | 10% |
| Critical Damage | 11-13 |
| Effective Range | Medium |
The Railgun is a new MEC-only weapon in XCOM: Enemy Within.
In-game Description
Edit
| | | |
| --- | --- | --- |
| " | This high-powered, recoiless slugthrower can be fired in short bursts to devastating effect, although the sizes of its housing and power supply require it to be mounted on a MEC. Prior to our research on heavy lasers, we had no access to a small enough power source. | " |
Availability
Edit
The Railgun becomes available for production in Engineering after completing the Heavy Lasers research.
Production costs:
Specifications
Edit
Effective range: Medium
6-8 base damage
10% critical chance
11-13 critical damage
Tactical Info
Edit
Miniaturized power supply derived from laser tech.
Only equipped by MEC Troopers
Risk of catastrophic overheating precludes suppression with this weapon
Real-life railgun development is indeed hampered by inadequate materials, bulky power sources, extreme heat build-up, and can burn their rails to the point of uselessness in one shot.

There is some debate as to the fact that the Railgun is recoilless since they are subject to the same physics as firearms so it would appear that they are not recoilless. However recoilless doesn't mean that there is no recoil. Recoilless weapons operate by utilizing the thrust of the fired weapon to reposition itself in the same place that it was fired before, therefore eliminating the need to reposition the gun again after firing the first time. Following this logic this means that the railgun is in fact recoilless and by extension all of the XCOM guns are technically recoilless.
An open barrel with unconnected rails is a possible design weakness - rails repel violently during firing.

The Railgun is one of XCOM's three advanced projectile weapons; the others are the chemical Phoenix Cannon and the magnetic Alloy Cannon.