Power Relay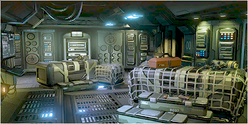 Specifications
Prerequisites
None
Required Resources

§80

(

§100

)
Required Power
None
Time to Build
12 days
Monthly Upkeep

§10
A Power Relay is a facility in XCOM 2.
"
Every facility aboard the Avenger requires power to remain operational. Building relays will increase the total power output of the Avenger, allowing for further expansion and upgrades.
"

– Ingame description
This facility supplies 3 Power; each assigned engineer provides +5 Power. Constructing a Power Relay in an empty room with an Exposed Power Coil will improve the relay's power output by 7.
Upgrade: Power Conduit
Edit
Costs: §80 (§100)
Provides: 9 Power, 1 Additional Engineer Slot
Maintenance: §10
Upgrade: Elerium Conduit
Edit
Costs: §150 (§300), 20 (35) Elerium Crystals
Provides: 13 Power
Maintenance: §20
Ad blocker interference detected!
Wikia is a free-to-use site that makes money from advertising. We have a modified experience for viewers using ad blockers

Wikia is not accessible if you've made further modifications. Remove the custom ad blocker rule(s) and the page will load as expected.