Plasma Pistol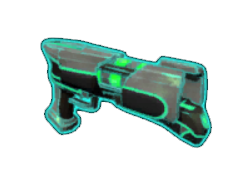 Specifications
| | |
| --- | --- |
| Type | Pistol |
| Class | Assault, Sniper or Support |
| Cost | §100 |
| Ammo | Unlimited |
| Base Damage | 2 - 4 |
| Critical Damage | 5 - 7 |
| Critical Chance | 0% |
| Terrain Damage | 125 |
| Effective Range | Medium |
The Plasma Pistol is a weapon in XCOM: Enemy Unknown.
In-Game Description
Edit
"
By discharging a lethal shot of ionized gas in an artificially generated magnetic field, this weapon performs far beyond the capabilities of any projectile based sidearm.
"

– Engineering description, XCOM: Enemy Unknown
Availability
Edit
The Plasma Pistol becomes available for production in Engineering after completing the Plasma Pistol research. Following the research, soldiers can also use any Plasma Pistols acquired by capturing live Sectoids and Sectoid Commanders.
Production Cost:
Specifications
Edit
"

▪  Effective Range: Medium
▪  Base Damage: 2 - 4
▪  Critical Chance: 0%
▪  Critical Damage: 5 - 7

"

– Weapon Specs, XCOM: Enemy Unknown
Tactical Info
Edit
"

▪  The most powerful pistol available to XCOM
▪  Used widely by the invading forces

"

– Tactical Info, XCOM: Enemy Unknown
Foundry Upgrades
Edit
All of the weapon's original users (Sectoids and Sectoid Commanders) wear it mounted on their forearms, without the pistol grip and trigger, which are apparently the first thing XCOM adds to captured examples when preparing them for field service.
Ad blocker interference detected!
Wikia is a free-to-use site that makes money from advertising. We have a modified experience for viewers using ad blockers

Wikia is not accessible if you've made further modifications. Remove the custom ad blocker rule(s) and the page will load as expected.