Pistol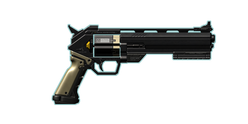 Specifications
The Pistol is a secondary weapon used by Sharpshooters in XCOM 2.
Availability
Edit
As with all conventional weapons, the Pistol is available at the beginning of the game in unlimited supply.
Tactical Info
Edit
Pistols can be much more than a sidearm in the hands of a trained Sharpshooter.
Unlike the sniper rifle, pistols can be fired with a single action.
Sharpshooters can train several abilities that dramatically enhance their use of Pistols.