Kal-7 Bullpup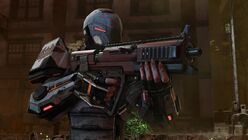 Specifications
Requirement
Unknown
Type
Assault rifle
Class
Skirmisher
Cost
None
Ammo
3
Base Damage
3-4
Armor shredded
0
Effective Range
Short

The KAL-7 Bullpup is a primary weapon introduced in the XCOM 2 expansion, War of the Chosen. It is the signature conventional weapon of the Skirmishers. Shooting using a Bullpup rifle only costs a single action and does not end the Skirmisher's turn. This allows the Skirmisher to shoot and move in any order, or shoot twice in a single turn.
Since the weapon's having an alphanumeric designation and not being seen used by any ADVENT loyalist troops, the Kal-7 bullpup is most likely an Earth-designed weapon, scavenged by the Skirmishers from armories of one of the now-defunct militaries of Earth's nation-states, as it is the case with XCOM's assault rifles.
Ad blocker interference detected!
Wikia is a free-to-use site that makes money from advertising. We have a modified experience for viewers using ad blockers

Wikia is not accessible if you've made further modifications. Remove the custom ad blocker rule(s) and the page will load as expected.