Incendiary Grenade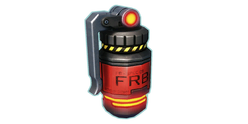 Specifications
An Incendiary Grenade is an explosive weapon and utility item in XCOM 2. They deal a higher average damage than the Frag Grenade and inflict Burning on targets hit.
Tactical Info
Edit
Incendiary grenades will damage all units in the blast radius, and apply the Burning effect to any units vulnerable to flame.
Incendiary Grenades will leave Fire tiles on applicable areas that can be set on fire. Tiles with materials such as concrete will not have fire tiles placed on them.
Incendiary Grenades do not destroy cover, but the flames are able to destroy flammable cover such as trees after some turns pass.
Some enemies, particularly metallic ones (Mechanical Chassis), are immune to fire and will not suffer the "burning" effect.
20% chance of 5 damage.
Ad blocker interference detected!
Wikia is a free-to-use site that makes money from advertising. We have a modified experience for viewers using ad blockers

Wikia is not accessible if you've made further modifications. Remove the custom ad blocker rule(s) and the page will load as expected.