Grenade Launcher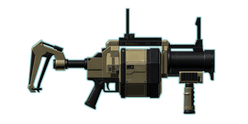 Specifications
Requirement
None
Class
Grenadier
Base Damage
Varies by grenade type
Other Notes
Bonus grenade range: 4
Bonus grenade radius: 1
The Grenade Launcher is a secondary weapon used by Grenadiers in XCOM 2.
Availability
Edit
As with all conventional weapons, the Grenade Launcher is available at the beginning of the game in unlimited supply.
Tactical Info
Edit
The Grenade Launcher is the Grenadier's specialty weapon.
It has substantially increased range compared to throwing.
Grenadiers can train several abilities that dramatically enhance their use of the Grenade Launcher.
The Grenade Launcher appears to resemble a Milkor MGL grenade launcher, with its large drum and overall form.
Ad blocker interference detected!
Wikia is a free-to-use site that makes money from advertising. We have a modified experience for viewers using ad blockers

Wikia is not accessible if you've made further modifications. Remove the custom ad blocker rule(s) and the page will load as expected.