Gas Grenade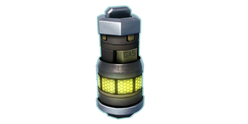 Specifications
A Gas Grenade is an explosive weapon and utility item in XCOM 2.
Tactical Info
Edit
Gas grenades have a significantly increased blast radius and poisons the target.
Does not destroy cover.
Gas Grenade has a bigger radius than the regular Frag Grenade.
Gas Grenade will leave a cloud of poison gas, poisoning any enemy or ally moving through it. Poison cloud lasts for the next 3 turns.
The gas cloud left by the grenade will expand even through walls, unlike the Acid Grenade.
Units that are immune to Poisoned will still take the initial grenade damage.
Ad blocker interference detected!
Wikia is a free-to-use site that makes money from advertising. We have a modified experience for viewers using ad blockers

Wikia is not accessible if you've made further modifications. Remove the custom ad blocker rule(s) and the page will load as expected.