Cyberdisc
Talk

3
392pages on
this wiki
Cyberdisc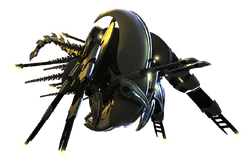 Statistics
| | |
| --- | --- |
| Aim | |
| Critical Chance | |
| Defense | |
| Health | |
| Mobility | |
| Will | |
Attributes
| | |
| --- | --- |
| Weapon | Various |
| Abilities | |
| Traits | |

Cyberdiscs are enemies in XCOM: Enemy Unknown.
Description
Edit
Little is known about Cyberdiscs; they may be robotic or sentient beings. They are about the size of a small car, and can transform between two forms: a flat, saucer-like form and a spider-like assault form.
The appearance of a Cyberdisc can be very unsettling for the unprepared player. When a squad lacks firepower such as Beam Weapons, it can be difficult to bring a Cyberdisc down. Not only because of its high hitpoints, but also due to Drones repairing the Cyberdisc. Moreover, the Cyberdisc utilizes a very powerful beam weapon that will one-shot soldiers without decent armor.
It is rare to see multiple Cyberdiscs together, though they are frequently accompanied by Drones, and will also support other alien species such as Sectoids.
Abilities
Edit
| Ability | Description |
| --- | --- |
| Bombard | Throw or launch grenades over exceptionally long distances. |
| Death Blossom | Project an intense energy field from closed position, damaging all nearby enemies. 3 turn cooldown. |
| Trait | Description |
| --- | --- |
| Hardened | Reduces the chance of suffering a critical hit by 60%. (The Cyberdisk only benefits from this trait while in its closed form) |
| Stun Immune | This unit cannot be stunned with the Arc Thrower; taking a live specimen is not possible. |
Capturing
Edit
Cannot be captured
While in disc-form, the Cyberdisc is much harder to hit, but you can still deal damage to it (half damage from ballistics). A recommended tactic is to damage it from afar, before it can close in on your squad.
If a Cyberdisc is sufficiently damaged, it will attempt to retreat to let any Drones nearby to repair it, you can prevent it from moving by keeping it suppressed.
Cyberdiscs have a special close-range area-of-effect attack called "Death Blossom" that can wipe out entire squads.
Since the Cyberdisc and Drones usually group together, it is effective to use a Rocket Launcher/Blaster Launcher to hit them in a single shot, effectively killing the Drones and dealing around 6 damage to the Cyberdisc itself.
Cyberdiscs have an Alien Grenade and will use it if your squad is grouped too tightly.
When a Cyberdisc is destroyed, it will self destruct, dealing a small amount of damage to both enemies and friendlies within a small radius. Since Cyberdiscs are almost always accompanied by Drones in close proximity, use this to your advantage.
Cyberdiscs will take advantage of their self destruct and will try and move close to humans when discovered.
When damaged while in its combat mode, the Cyberdisc will close, so hit it with your hardest hitting squad member first to deal the most damage.
The Cyberdisc has the Stun Immune trait and therefore cannot be stunned by the Arc Thrower (Drone Capture is designed to work specifically on Drones only).