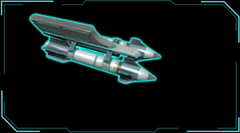 Avalanche Missiles are armaments for Interceptors in XCOM: Enemy Unknown.
In-Game Description
Edit
"
A crash program and a couple of lucky experiments led to the Avalanche Missiles, an air-to-air weapon of an unprecedented precision. It represents the pinnacle of terrestrial guided-missile technology.
"

– Loadout description, XCOM: Enemy Unknown
Production Specifications
Edit
Prerequisites: None
Avalanche Missiles come as the default armament on all Interceptors and do not require manufacture in Engineering.
Tactical Info
Edit
| | |
| --- | --- |
| Hit Chance: | 70% |
| Range: | Long |
| Fire Rate: | Slow |
| Damage: | Low |
| Armor Penetration: | Low |
Conventional air-to-air missiles upgraded with Earth's best targeting software
Warhead's effectiveness against alien armor material is unknown
Despite being said as "of unprecedented precision," the missiles' accuracy is a fairly unreliable 70%.
In reality, long range missiles have an accuracy of 18% against a low technology enemy and 13% accuracy against an enemy aircraft with some kind of defence. Thus, a 70% hit chance it is actually unprecedented in real world analogies.
It is unknown what guidance system the Avalanche missiles use to home in on their target. The UFOs do appear to lack clear radar-reflecting angles, and it is unknown if they produce sufficient heat for an infrared targeting system. XCOM satellites, as it has been stated, utilize gravitic detection - a novel technology.
Ad blocker interference detected!
Wikia is a free-to-use site that makes money from advertising. We have a modified experience for viewers using ad blockers

Wikia is not accessible if you've made further modifications. Remove the custom ad blocker rule(s) and the page will load as expected.