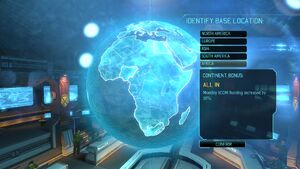 All In is one of five continent bonuses available in XCOM: Enemy Unknown. It is unlocked by either placing XCOM headquarters in Africa at the beginning of a new game, or by placing satellites in orbit over all three African countries during the game.
In-Game Description
Edit
"
Monthly XCOM funding increased by 30%.
"

– In-Game Description, XCOM: Enemy Unknown
All In is a simple aid that does not require a weighted strategy.
It may not be very valuable at the beginning of the game because XCOM starts with only one country covered by a satellite. If chosen as a starting bonus, it may be advisable to focus satellite coverage on nations that provide the most income, as long as doing so does not interfere with mitigating panic.
The location of the XCOM base in Africa corresponds to somewhere near the northern border of the DR Congo.
Ad blocker interference detected!
Wikia is a free-to-use site that makes money from advertising. We have a modified experience for viewers using ad blockers

Wikia is not accessible if you've made further modifications. Remove the custom ad blocker rule(s) and the page will load as expected.