Acid Grenade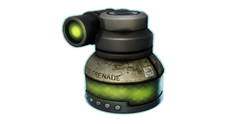 Specifications
An Acid Grenade is an explosive weapon and utility item in XCOM 2.
Tactical Info
Edit
Acid grenades shred more armor than a standard frag grenade.
Enemies burned by acid will take additional damage over multiple turns (Acid burn).
Acid left by the grenade will not spread through walls. Be careful when aiming at a enemy behind cover.
Acid grenades do not destroy cover.
Ad blocker interference detected!
Wikia is a free-to-use site that makes money from advertising. We have a modified experience for viewers using ad blockers

Wikia is not accessible if you've made further modifications. Remove the custom ad blocker rule(s) and the page will load as expected.